Tired of staring at the walls this winter? Bundle up and get out to southeastern Manitoba, because Sunrise Corner has miles of open trails for you to explore. Snowshoeing and cross-country skiing are both fun and sustainable ways to explore nature while getting a refreshing workout.
Sandilands Provincial Forest
The Sandilands Provincial Forest in the Rural Municipality of Piney is home to majestic pines, a plethora of wildlife and incredible fresh air. In the summer, trails are used to pick wild berries, horseback ride, mountain bike and for ATVing. In the winter, it is a prime spot to cross-country ski and snowshoe. Trails stretch from Marchand to the town of Sandilands. 
Tall Grass Prairie Preserve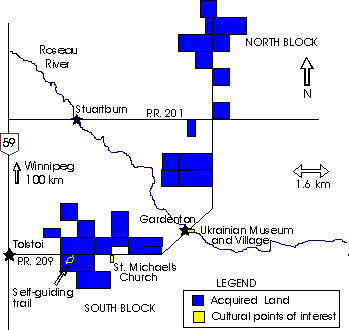 The Tall Grass Prairie Preserve in the Rural Municipality of Stuartburn stretches for miles across bushland and open grasslands. Two interpretive trails are open in both summer and winter: The Prairie Shore Interpretive Trail, and the Agassiz Interpretive Trail. These trails are perfect for snowshoeing or skiing. However, if you're up to go exploring, there are acres of open Preserve, waiting to be explored on foot (non-motorized recreation only).
Tips For Exploring Safely
Sunrise Corner is an extremely vast wilderness area of the province with poor cellular service in many areas. Many trails are unmarked, unmapped and remote. Safety is paramount.
Consult the RM of Piney or RM of Stuartburn offices for maps of the area before venturing out into the backwoods – check their websites for office hours
Carry a compass and a paper map
Always tell someone where you are going and what time you're expected to return
Bring a friend or two with you
Dress for the weather, and for unexpected weather
Be sure to bring along food and water
Carry a radio if you are concerned about cellular service
After your epic day of snowshoeing or skiing, why not relax at one of our local restaurants? You can't go wrong topping off your day with a hot drink, delicious meal and friendly service.